Probably the biggest challenge that felons face after their release is finding a job.
Employers typically conduct background checks on applicants before hiring someone, but felons may not know exactly what will be discovered.
Knowing what they face can help in preparing them for the results no matter what turns up.
This blog post will cover how to run a background check on yourself.
What is a Background Check?
What is Included in a Background Check?
Criminal Records
Reasons for Running a Personal Background Check
How to Run a Personal Background Check
Encouraging a Felon to Run a Personal Background Check
If you're applying for a job or an apartment, you may have to go through a background check first.
A background check helps potential employers or landlords know who their new hires are and decide if you're the right choice for them. 
Background checks can often be a stressful event to go through.
Waiting for the results to get to the person or company who requested them can be stressful for anyone, so it's a fantastic idea to understand the process to the full extent.
Read on to learn how background checks work and to see how you can make the process as smooth as possible, especially if you have a criminal record.
What is a Background Screening?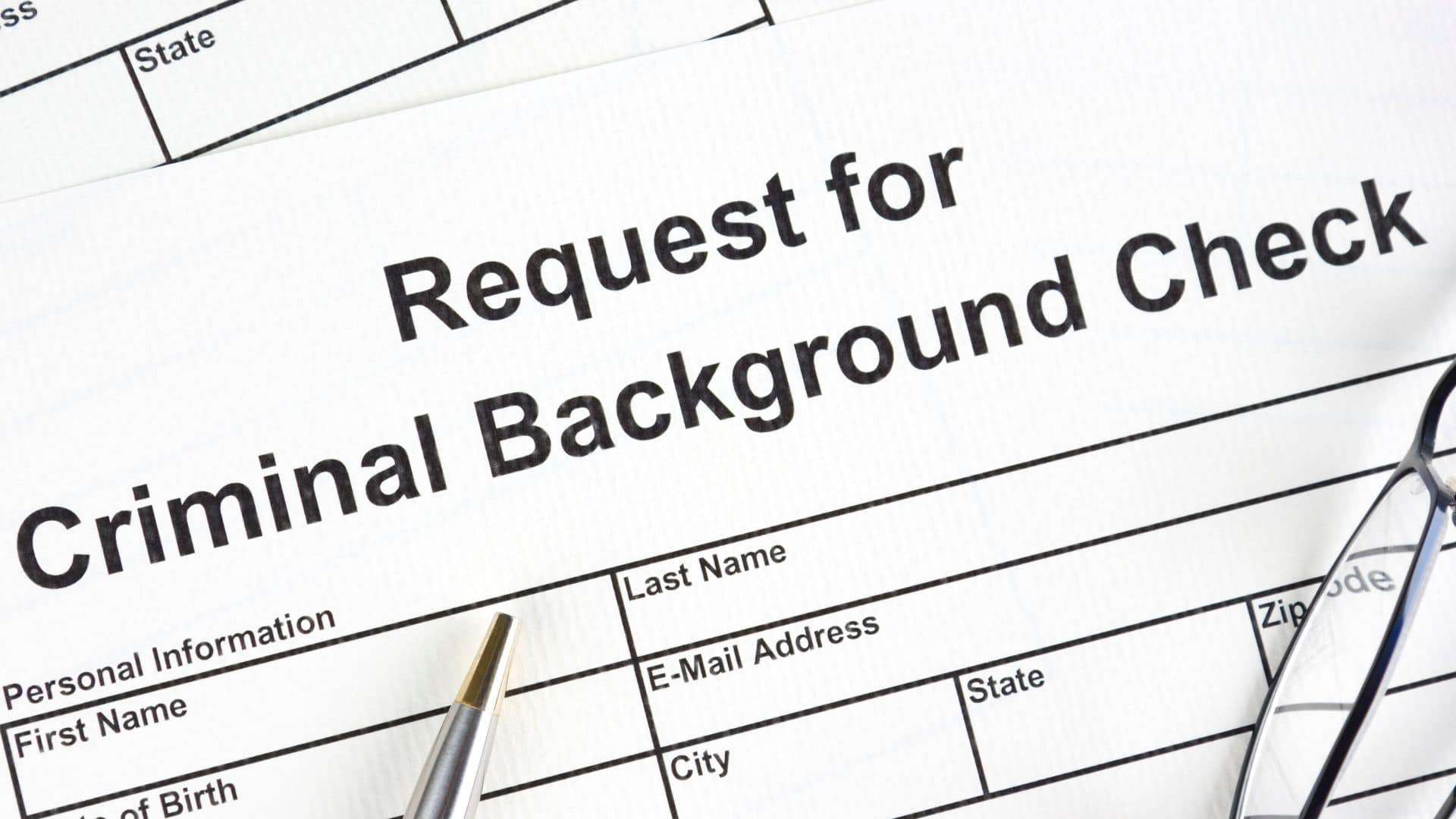 When most people talk about background screening, they mean a criminal record check.
A criminal record check is the vital aspect of any background check, and therefore, the one we'll focus on the most.
The results of a background check give employers information essential to make a decision in hiring for a position.
Many employers won't hire felons because they think they are dishonest and likely to commit a crime on the job. 
Employers are also concerned about the public finding out they hire felons, which could damage the company's reputation and cost them business.
Felons can lose out on a job because of the potential public damage, harm, or threat they represent for the company.
Background information assists employers in determining a candidate's past mistakes, character, moral and financial fitness, and to pinpoint hiring risks for security and safety issues.
Most employers are concerned with more than an applicant's criminal record.
In addition, an employer will look at driving records, credit reports, and educational records when doing a background check.
Employers or landlords can pursue a criminal record check for their potential employees through law enforcement agencies at the local, state, and federal levels.
The FBI and other federal agencies perform the highest level of criminal record checks through their Identity History Summary program.
If an employer sees this as too much of a hassle, they can use a background check company to generate a background report.
Background checks are not mandatory by law. 
They are required in areas involving an individual's personal and private information such as home healthcare, financial, and insurance companies.
A criminal record check goes through local, state, and federal criminal databases, including the sex offender registry, to verify if the person has had any criminal activity in the past. Even misdemeanors go on your criminal record.
If you're applying for a job and you have a criminal record, that doesn't mean you're out of the running already. Businesses have varying practices and hiring decisions that may include hiring those with criminal records.
What is Included in a Background Check?
Basic information such as full name, date of birth, and Social Security Number are required to conduct a background check.
Among the information typically included in a background check are:
Driving records
Credit records, including bankruptcy
Criminal records
Education records
Court records
Character references
Medical records
Military Records
State licensing records
Drug test records
Past employers
Personal references
Incarceration records
Sex offender lists
Social media profiles
Criminal Records
This part of the background check involves a search of criminal history files for any criminal activity.
A criminal background check typically reveals the following information:
Convictions of felonies, misdemeanors, and sex crimes
Current home address and phone number as well as those within the past ten years
Arrests and court records (Dockets, orders, decrees, judgments)
Warrants
Incarceration records
Federal and state tax liensFederal and civil judgments
Federal and state bankruptcies
Age and date of birth
Any alias' and maiden names
Marriages and divorces
Often, the perception is that all information on an individual is stored in one giant database that can be easily accessed.
There are multiple databases involved from local to county to state to federal, each with different information on a person. 
A background check typically involves compiling data from several sources.
A county background check is the most common, showing felony criminal history and misdemeanors in most counties.
Then, there is a Federal Criminal Record Check, which shows federal crimes and crimes committed on federal property.
A Statewide and Nationwide check, Sex Offender Registry, and a Global Homeland Security Search shows if an individual is in any of these databases.
According to the federal Fair Credit Reporting Act (FCRA), a background check will show all non-convictions, including cases dismissed, not prosecuted, or resulting in deferred adjudication.
Non-convictions are reportable for seven years. 
Convictions can be reported without any limitation.
When felons have had their records expunged or sealed at the time of the background check, these would not appear on a background check.
When running a background check, employers are encouraged to follow the practices established by the Equal Employment Opportunity Commission (EEOC). 
A U.S. court case established the essential factors to be considered when looking at a background check:
Nature and gravity of a crime
A time that has passed since the offense and the end of the sentence
Nature of the job
Not all offenses are severe enough to result in exclusion from all positions.
For some, there is a time when the felon is not considered to be a significant risk for repeating their offense.
The nature of the job involves its functions (data entry or handling money), the circumstances under which the job is performed (level of supervision), and the environment in which it is performed (outdoors, in a business, or a private home).
Related Checks
A background check usually includes more than just a criminal record check.
Potential employers or landlords often check the tenant or job candidate's employment history, credit, and other vital areas.
Here are the most common checks associated with background checks.
Driving Record
If you're applying for a trucking job or want to drive for Uber, the job you're applying to will ask for a driving record.
A driving record has all of your traffic infractions, including times you were speeding, parked improperly, or even pulled over for a broken tail light.
Companies that hire drivers need to ensure their employees are safe on the road.
It looks bad on a delivery company if their vans are driving erratically in a city, and the same goes for Uber or other rideshare programs.
By getting a driving record check, employers can ensure their drivers will be safe for everyone who shares the road.
Employment Verification
Employment verifications are typically done by landlords and bankers. Landlords perform employment checks to make sure their potential tenants can pay rent every month.
Without employment verification, landlords will ask for a cosigner. 
Banks and other institutions that give out loans also need to verify employment before signing a contract.
Banks often won't even entertain the idea of giving you a loan without employment, and for good reason.
People often label banks that provide loans to people unable to make the payments "predatory."
Education Verification
Education verification can mean a wide variety of things, from making sure you're trained to drive the vehicle you were hired to or verifying that you graduated from the institution you said you did, whether that be high school, college, or university. 
The reason employers verify your education is that they need their employees to have the basic abilities to perform their jobs. Let's use trucking as an example.
To drive an 18-wheeler, you need a CDL A driver's license.
An employer needs to verify that to ensure you're legally allowed to drive the truck they require you to drive.
Without an education verification, they may hire unqualified drivers.
References
References are the least important part of any background check, but they can help you out if you have a criminal record or other blemishes on your background check.
References are people who write you a letter or give you a phone number that you can give out that help a landlord or employer get a better sense of your character.
References are usually written by past employers or landlords.
References from employers or landlords give you the best chance of landing a job or apartment because they help prove you're a responsible worker or tenant.
An employer will pursue a reference check to verify the job applicant has the required experience and standing to work in their field.
Credit Check
Landlords use credit checks as a way to judge whether or not a potential tenant can pay their rent on time each month. Credit checks work by generating a credit report that evaluates how fast you've paid off past debt.
The Fair Credit Reporting Act (FCRA) is the law that governs how institutions perform credit checks.
The FRCA lays out general guidelines, like what payments count towards your credit, to determine what's an excellent, good, poor, and bad credit score. 
How Background Check Services Work
Background checks work by processing the information you give a potential employer or landlord.
The most common piece of information you provide for a background check is your social security number (SSN).
Your SSN is the number the government gives you for your tax filings, but it also allows people or companies to do a credit check and a criminal record check. 
After you fill in the required information, including your name, address, phone number, SSN, date of birth, and anything else required of you, the person or company who required the information verifies that everything you filled in is correct. 
After verifying that the information is correct, the person or company will send it to law enforcement agencies to verify your criminal and driving records.
Next, they'll verify that the information about your education and employment history is correct by reaching out to schools or government agencies that handle that sort of information.
Finally, if required, the person or company will check your credit and verify your references.
To verify your references, most people give them a quick call to confirm you are who you say you are.
Landlords will perform a credit check through their desired credit checking agency.
The background check process may seem daunting, but as long as you're honest, there isn't much to worry about.
A job may deny you because of a criminal record, but that's not always the case.
If you lie on your background checks, you'll immediately fail, and you'll lose your job. It's always best to be honest, even if you think it will hurt your chances of landing the job.
How Long Do Background Checks Take?
The amount of time it takes to get a background check finished and returned to the entity that requested it depends on the amount of information the employer or landlord needs to check.
For example, if you did not finish high school and you stated such on the education check, the employer won't have to verify that information.
As a rule of thumb, employers can get a criminal record check returned to them in less than 48 hours, sometimes within the same day.
If a landlord uses a credit checking program, they can get a credit check on prospective tenants in seconds. If you want to check your credit score for yourself, you can do so here.
Other checks, like references, employment, and education verification take longer because they require the person or company to call, email, or otherwise interact with other people, like past employers or schools.
These checks often take longer than two days and may require up to a week to verify.
Reasons for Running a Personal Background Check
There are reasons for a felon to run a personal background check. 
Rather than waiting until the interview for a job is over and hoping for the best, it may be helpful to do a background check on themselves before applying for a job.
This will allow a felon the opportunity to know exactly what will be found when a potential employer does their review.  Why wait and take a chance on the results being more unfavorable than they might realize?
A felon could be turned down for anything in the background check that is out of line with what an employer is looking for.  Usually, the rejection comes at a time too late to dispute the results.
The hiring process will continue, and someone else will get that job!
Conducting their own background check will allow a felon to see what an employer views.
It is best to know and understand how potential employers are assessing them.
Misinformation does occur.
The police department or the court could make a mistake in recording a criminal offense.
Knowing this will permit a felon to possibly avoid missing out on a job because of inaccuracy.
For felons who may have had their record expunged, it is important to examine their file to make certain that the felony they thought was gone doesn't still show up.
What a waste to have their record expunged and then still be penalized for that offense.
How to Run a Personal Background Check
Yes, a personal background check can be run.
There are various kinds of personal background checks that can be done.
For those who know they have a felony conviction or arrest, the court in which they were charged will be able to provide those records.
The Fair Credit Reporting Act (FCRA) has established that a credit report will help determine how financially responsible an individual is by examining how much debt a person has, their debt/income ratio, the number of times their credit report has been accessed, and if any accounts have been sent to collection.
When it comes to driving records, states vary in terms of how long something will show up.
The Department of Motor Vehicles (DMV) for each state can provide specific information.
Some employers will check driving records, especially for any job involving driving, such as a truck driver.
An educational report will ask for diplomas and transcripts and can be obtained through the National Student Clearing House.
Verifying social media accounts will give an online footprint.
For someone wanting to do a background check on themselves, there are places that can help with that process.
Encouraging a Felon to Run a Personal Background Check
For families of loved ones with a felony, encourage them to be honest and ready to answer any questions about the charges.
Conducting their own background check will permit a felon to know what an employer will view when they do their check.
Being prepared for various issues when applying for a job and having their own background check can prevent problems later on.
Be there for them and be honest with them in this situation.
Help them be aware of the results of any background check by doing their own first.
Give them the best opportunity for success in their new life.
Frequently Asked Questions
Here are some of the most common questions we get about background checks.
If I Have a Felony, Will Employers Consider Me as a Job Candidate?
Having a felony will hurt your chances of getting a job, but that isn't the case for all jobs or employers.
Companies like Staples, Dollar General, and Kroger, among others, all hire felons, although the type of felony offense can impact your chances of getting hired. 
Will Minor Offenses Show Up on Criminal Background Checks?
Yes, all offenses which you have been convicted of show up on a criminal background check.
All felonies, misdemeanors, and other infractions show up.
If your employer asks for a driving record, all minor driving infractions, including speeding, will show up as well.
I Need to Do a Drug Screening—Is That Legal?
Along with pre-employment background checks, employers will often ask for a drug screening before offering you the job. It is perfectly legal for them to request this of you, and it's within your rights to deny the request.
If you deny the drug screening, you most likely won't get the job, though.
My Criminal History is Present on Social Media—Should I Remove It?
If you have references to the time you spent incarcerated online, we recommend removing them.
Most employers don't police what their workers do in their off time, but when you're hunting for a job, it's best to be careful. 
Wrapping Up
Background checks are a hassle, but employers and landlords count on them to verify their employees or tenants are who they say.
Even if you have a felony on your record, don't stress too much about the background check process. 
If you're honest about all the information you provide during the application and interview process, employers should be able to see past any blemishes on your record.
Prove to them you're a responsible and honest worker or tenant, and the felony on your record won't matter one bit.
So what do you think about this blog post about how to run a personal background check?  Have you or someone you know had a felony and did a personal background check?  What was that like and were they successful in dealing with it?   Please tell us in the comments below.