In the rapidly evolving gig economy, opportunities are burgeoning in sectors we would have scarcely imagined a decade ago. One such sector is the pet services industry, especially in dog walking and pet sitting. This niche has been smartly captured by platforms like Rover and Wag, which connect pet owners with reliable and trusted pet caregivers. However, questions arise when we discuss the eligibility of individuals with felony convictions to work on these platforms.
Before we dive deeper into this topic, it's crucial to understand what Rover and Wag are. Rover and Wag are popular online platforms that facilitate pet care services. These platforms allow users to hire individuals for various pet care tasks such as dog walking, pet sitting, house sitting, dog boarding, and more. The service providers, known as 'Rover walkers' or 'Wag walkers', are independent contractors who can make a reasonable income by providing these services.
For individuals with a past felony conviction looking for gainful employment, platforms like Rover and Wag can potentially offer an appealing opportunity. These platforms can provide a flexible and autonomous way to generate income, which can be particularly attractive for individuals facing barriers to traditional employment due to their criminal history.
Unfortunately, earning money through Rover and Wag as a felon is not a straightforward process. Both platforms maintain a thorough vetting system to ensure the safety and peace of mind of pet owners, which includes a background check for potential walkers or sitters. If someone has a felony on their record, they may face difficulties passing these checks, posing a significant challenge.

Also, acceptance onto these platforms also depends on an individual's ability to garner positive reviews from pet owners, another hurdle that can prove challenging for some individuals. While these platforms can provide an alternative route to financial stability, they are not without their obstacles. In this article, we will look at whether these platforms are right for felons.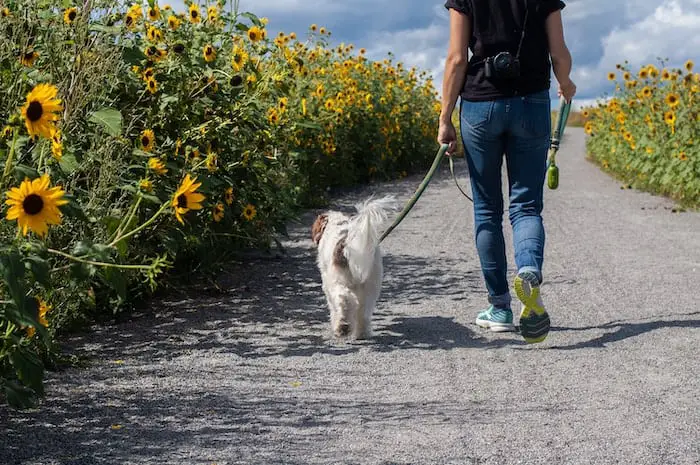 Understanding the Background Check Process for Rover and Wag
The gateway to becoming a pet sitter or dog walker on Rover or Wag lies through a detailed background check. Conducted by reliable third-party services, these background checks serve as a crucial mechanism to ensure the security and trustworthiness of the providers on these platforms.
Rover entrusts its background checks to Sterling, a globally recognized provider of background and identity services, which verifies an applicant's identity, criminal records, driving records, and personal references. On the other hand, Wag engages Vetty, a modern, secure platform for background screening. Vetty checks an applicant's identity, criminal records, sex offender status, and global watchlist status.
These background checks generally take between 2-3 business days, but the process may extend depending on the availability of records and volume of requests. Once completed, applicants receive a detailed report via email from the respective third-party service, along with instructions on how to dispute any inaccuracies or errors.
It's important to note that these checks are not binary pass/fail assessments. Instead, they serve as a decision-making tool for Rover and Wag, helping these platforms understand the risk associated with each applicant. The criteria for acceptance differ between the platforms and largely depend on the type and recency of any criminal offenses.
According to Rover, applicants with convictions or pending charges related to felonies, violent crimes, sexual offenses, or theft or property damage offenses within the past seven years are typically not accepted. Likewise, Wag excludes individuals with charges or convictions related to violent crimes, sexual offenses, theft or property damage offenses, fraud or identity theft offenses, animal abuse or neglect offenses, or drug-related offenses in the past seven years.
If you have a felony on your record and are contemplating becoming a Rover or Wag provider, consider the following tips to increase your chances of passing the background check:
Honesty: Don't lie about your identity or any other personal details. Both platforms utilize identity verification tools, and any discrepancies could lead to rejection and potential legal consequences.
Know Your Background: Prior to applying, conduct a personal background check using services like Background Checks or Checkr. Knowing what your background check will reveal can help you prepare for any potential questions or concerns.
Expunge or Seal Your Criminal Record: If possible, you should try to expunge or seal your criminal record. This process can be complex and may require legal consultation, but it could improve your chances of passing the background check.
Research: Understand the pet care market in your area and the expectations of the platforms and pet owners. The more informed you are, the better you can meet these expectations.
Build Your Own Business: If joining Rover or Wag is not possible due to your felony conviction, consider launching your own pet care business.
Seek Assistance: Organizations such as Mission: Launch, Defy Ventures, The Last Mile, Homeboy Industries, and America Works provide support for individuals with felony convictions, helping them find employment or start a business.
Transparency: If you manage to join Rover or Wag, be honest about your criminal history if asked. Honesty enhances trust and can contribute positively to your reputation.
In conclusion, understanding Rover and Wag's background check process and knowing how to navigate it can increase your chances of joining these platforms as a pet care provider, despite having a felony record. Therefore, take the first step and apply because there is a chance your next opportunity as a Rover or Wag Walker is waiting for you.
So what do you think about this blog post Can a Felon Rover or Wag Walk? Have you or someone you know been in that situation? What was that like and what happened? Please tell us in the comments below.