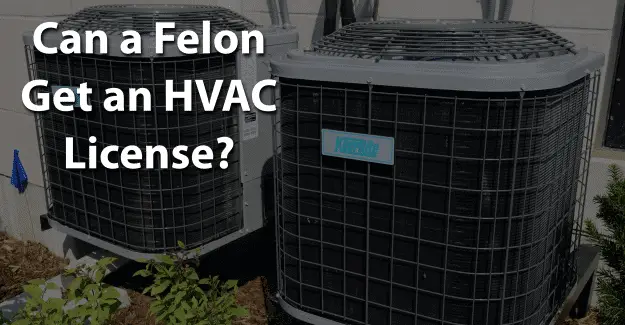 Felons may think no one will hire them after serving their sentence, but there are resources available. Many times it takes learning a new trade or starting a different career. For those with electrical or plumbing experience, working in heating and air conditioning is a possibility. Can a felon get an HVAC license? This blog post will address the issue of whether or not a felon can get an HVAC license.
What is an HVAC Technician?
What is Required to Get an HVAC License?
License vs Certification
How Much Does an HVAC Technician Earn?
An Opportunity for Felons?
Recommended Action
What is an HVAC Technician?
An HVAC technician maintains a number of machines and systems related to the heating and cooling industry. HVAC stands for Heating, Ventilation, and Air Conditioning.So, someone looking to become an HVAC technician may work on:
Heating systems
Ventilation systems
Cooling systems
Refrigeration systems
Among the many duties of an HVAC technician are:
Installing, cleaning, and maintaining HVAC systems
Installing electrical components and wiring
Inspecting and testing systems
Replacing defective parts
HVAC technicians work in:
Homes
Schools
Stores
Hospitals
Office buildings
Among the important traits of an HVAC technician are:
Customer service
Detail-oriented
Good communication
Math skills
Mechanical skills
Physical strength and stamina
Problem-solving skills
What is Required to Get an HVAC License?
Most employers prefer hiring someone who has a post-secondary education or has completed an internship. In many states, a technician needs to be licensed in addition to having a certification.Many HVAC technicians receive an education from technical and trade schools or community colleges. Typically, these programs last six months to two years.After that, many technicians are trained in an apprenticeship which may last from three to five years. Apprenticeship programs focus on safety practices, blueprint reading, and use of tools.The U.S. Environmental Protection Agency (EPA) requires all technicians who buy, handle, or work with refrigerants to be certified in refrigerant handling. A technician must follow all government regulations regarding the conservation, recovery, and recycling of refrigerants.Having an HVAC technician license provides proof of having completed a training program offered by a trade school or community college. It indicates having the basic knowledge and skills to do this type of work.Certification lies beyond having obtained a license and indicates having obtained specialized knowledge. After at least two years of job experience, a technician can apply for an HVAC Excellence Certificate by passing a knowledge-based exam.There is also certification offered through the North American Technician Excellence Certification that is nationally recognized and shows expertise in dealing with gas furnaces, air conditioning, and air distribution systems.
License vs Certification
A license is issued by a state agency to practice a profession and is required to call oneself a licensed professional. Some states have a single license and some have a level system. Licenses and their requirements vary from state to state. Licensing can be viewed as mandatory certification. Under a licensure system, states define the practice of a profession, like heating and air conditioning, and stipulate that these tasks may be legally performed only by those who are licensed.Certification is typically a voluntary process, although it can be required to practice in certain states. It's often provided by a private organization for the purpose of providing the public protection.Only individuals who have successfully met all requirements for the credential and demonstrated their ability to perform their profession competently can become certified.
How Much Does an HVAC Technician Earn?
According to the U.S. Bureau of Labor Statistics, there were approximately 394,100 HVAC mechanics/installers in 2021. The median annual income for an HVAC mechanic/installer was $48,630 in 2021. The median salary is that at which half of HVAC technicians earned more and half earned less.
Experience and skill level have an impact on these earnings. It also depends on the area of the country where an HVAC technician works. Those on the in the Northeast, Northwest, and South have the highest annual salaries.
This field is expected to grow approximately 5% between 2021 and 2031, which is average. Commercial and residential building construction along with increasingly technical climate-controlled systems will lead to an increased demand in these technicians.
An Opportunity for Felons?
To obtain an HVAC license, someone who has been convicted of a felony must typically wait at least five years from the date of conviction or release from prison. Certain crimes may prohibit a person from getting an HVAC license.These crimes involve:
Fraud or deceptive trade practices
Sexual conduct offenses involving children as victims
Crimes against property such as theft or burglary
Crimes against a person such as homicide, kidnapping, and assault
The following factors will be considered in determining whether a criminal conviction should be grounds to deny licensure or certification:
Nature and seriousness of the crime
Relationship of the crime to the purposes for requiring licensure or certification
Extent to which certification might offer an opportunity to engage in further criminal activity
Relationship of a crime to the ability, capacity, or fitness to perform the duties
Further information will be considered regarding the applicant's fitness to perform the duties of an HVAC technician:
Extent and nature of the applicant's past criminal activity
Age of the person when the crime was committed
Amount of time that has elapsed since the last criminal activity
Work activity of the applicant before and after the criminal conviction
Evidence of the person's rehabilitation while incarcerated or after release
Other evidence of the person's fitness, including letters of recommendation from prosecutors, law enforcement, correctional officers, and any other person with knowledge of the applicant
To be successful in their pursuit of getting an HVAC license, it's essential for felons to be honest about their background. They are already working with the negative perceptions of being dishonest and untrustworthy.There are re-entry programs, such as drug treatment, and educational opportunities for felons who need them. For many felons, having their felony expunged can give them the chance they need to begin with a clean record and succeed in getting an HVAC license.
Recommended Action
It's a significant challenge, but it might be worth it for a felon that wants to get an HVAC license. Having his or her record expunged and also documenting any training programs or additional education could make the essential difference in a felon succeeding.Taking the time to complete a quality resume will also be extremely helpful.Having support from family, friends, or previous employers can make a huge difference. A felon doesn't have to be defined by his or her crime. We're not defined by our mistakes but by how we recover from them. He or she can begin again and live an honest life no matter how difficult it might seemWhat do you think about this blog post? Have you or someone you know been in the situation of trying to become an HVAC technician with a felony? What was that like for him or her, and how did he or she achieve success? Please tell us in the comments below.