If you get convicted of a felony or misdemeanor, it affects you for the rest of your life.
A criminal conviction makes it harder to get a job or find housing if a background check is required, and it got even harder following the COVID pandemic.
That's why it's essential to talk about the expungement process and what happens to those expunged records. 
Can You Get Record Expunged?
The first step in determining if you record can be expunged is to do a check in your state.
Other Helpful Resources for Felons
What You Need To Know About Expungement of a Criminal Record
It's possible to leave a criminal history in your past where it belongs.
But eligibility for the expunging of court records, public records, and criminal charges depends on how bad the  felony is and what the state law says where the crime took place.
The criminal justice system also denies some felony convictions, like domestic violence, in an expungement petition.
What Is an Expungement?
In the United States, expungement is when court records or arrest records get sealed and removed, like they never happened, as described in Black's Law Dictionary, which is the law dictionary used most often in the United States.
Who Is Eligible To Expunge Their Conviction Records?
Each state in America has its own laws about expungement.
An attorney member of the bar association in your state is the best person to speak to about criminal law and eligibility for an expungement order. 
So, if you get into a situation with law enforcement in your state, the first thing to remember is that you have the right to request legal help.
You must be granted accessibility to either an attorney or a criminal justice agency before making an appearance in criminal court.
However, if criminal cases or a criminal offense happens under Federal laws, there is currently no way to expunge a criminal history record for a Federal crime.
Legal help may be able to provide you with alternatives, including a pardon or an acquittal.
If you want to learn more yourself, there are plenty of self-help resources available, including .gov internet sites like Federal laws and regulations.
Search this .gov site with the following terms typed into the search box: expungement order, expunging, or expungement of criminal records.
The search results will direct you to self-help websites listed by state.
General State Eligibility for Expungement of Criminal Records
If a criminal record happens because of felony convictions due to severe crimes, there is no eligibility for expunging a criminal conviction.
In the majority of US states, a law enforcement agency considers severe crimes to include:
Murder.
Sexual battery, sexual imposition, or rape.
Serious weapons charges.
Felonies and first-degree misdemeanors involving victims 18 years of age and under, including corruption of a minor and pornography or obscenity involving a minor.
Eligibility To Expunge Juvenile Records
The great news for minor offenders or first-time delinquents (young people under 18 years old) is that most US states have laws that expunge juvenile records once the young person reaches adulthood. 
When a young person gets their juvenile record expunged, they receive a clean slate as they enter adulthood, with no negative impacts from a criminal record to affect their chances of getting better employment or owning a home one day.
Eligibility for Expungement of Controlled Substance Violations
Law enforcement of marijuana possession is now affected by whether cannabis is legal in the state where you live. 
Eligibility for Expungement of DUI Violations
A person appearing in district court for driving under the influence of drugs or alcohol faces a DUI (driving under the influence) conviction.
It is possible to have a DUI violation expunged from their criminal record in some states, but the DUI violation remains on their driving record for life. 
What Is the Expungement Process
If a person is seeking an expungement petition to clear their criminal conviction, they become a petitioner.
These are general requirements that a petitioner must meet during the expungement process.
Requirements To Expunge a Criminal Record
The expungement process varies by state, but it generally includes the following:
A petitioner undergoes a waiting period.
A petitioner has no other criminal conviction on their court records other than the criminal history they are seeking to expunge.
A petitioner is not seeking to expunge a serious or severe crime.
A petitioner has no court order or proceedings that are pending.
A petitioner fulfilled probation or any other requirements from a previous court order.
Step by Step Expungement Process
Generally, this is the process a petitioner takes to expunge their criminal history of a non-serious misdemeanor:
A petitioner confirms their eligibility for an expungement under state law.
They prepare an expungement petition using a standard petition form.
They pay a filing fee to register the expungement petition in the court where the criminal conviction occurred.
They make sure that copies of their expungement petition get forwarded to the prosecutor or other involved parties.
They await a court hearing on expungement eligibility and if the petition is valid.
The court either grants or denies the expungement petition.
Frequently Asked Questions About Expungement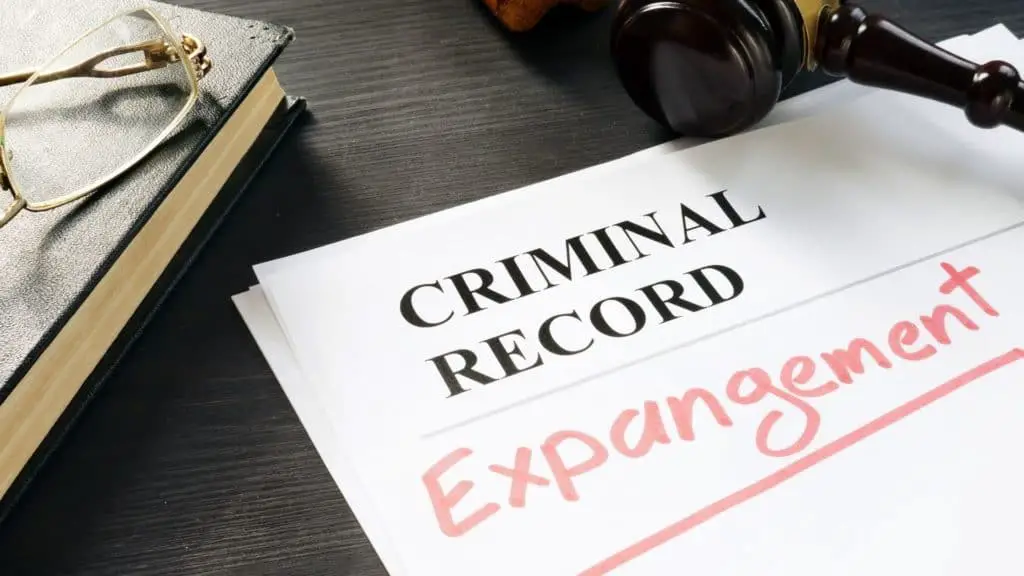 Answers to any questions about the expungement of a felony record will depend on state law.
There are also differences between state or federal violations, and an expungement conviction is not available for federal offenses. 
Doing an online search for the attorney general of your state will provide you with a website and more specific answers to your expungement questions.
Still, the following FAQs provide some general knowledge. 
Will an Expungement Order Destroy or Erase My Criminal Records?
It depends on your state. In Minnesota, for instance, expungement seals a criminal record and makes it inaccessible to the public.
But the criminal record remains in existence under seal.
Can Anyone See My Criminal Record After It's Expunged and Sealed?
If your state doesn't destroy an expunged criminal record but keeps it sealed, that expunged and sealed record is accessible to state and federal courts and prosecutors, as well as local and state law enforcement, the FBI, and the Federal immigration department.
Generally, a person's expunged record is only made accessible to government agencies if they become involved in a new criminal investigation or prosecution or if they're up for sentencing or probation on a new offense.
The exception is if a person applies for certain high-security occupations or business licenses.
Their expunged and sealed records might be made available to state agencies in their home state or another state in these specific situations.
Can an Expunged and Sealed Criminal Record Become a Prior Offense if a Person Commits a New Offense?
A sealed criminal record makes a new offense even more serious in many states if the person is committing the same offense repeatedly.
For instance, a new DUI offense results in more serious penalties if prior DUIs exist under expunged and sealed criminal records.
How Much Does Expungement Cost?
In some states like Minnesota, people who qualify for expungement don't need to pay for court filing fees if they apply through the state attorney general's office.
Generally, people filing an expungement petition through a court will pay a fee of approximately $300.
However, a petitioner may ask for the fee to be waived based on their income.   
What Is the Guarantee That a Felony Record Is Expunged?
When a court approves an expungement order, a copy gets sent to the mailing address provided in the petitioner's application.
This copy is an important document to keep in a secure area because it is proof that your records are expunged and sealed from public view. 
Why Can't a Federal Offense Be Expunged?
No federal laws currently exist to allow federal offenses to be expunged or sealed from public view.
What does exist at the federal level is something called a presidential pardon, but this is very different from expungement. 
If a person who committed a federal offense is granted a presidential pardon, both the conviction and the pardon would still appear on their criminal record.
A presidential pardon exists to help re-establish a person's good name, and it can help a person obtain specific business licenses, get bonded, or find better employment. 
An Expungement Is Possible
If you want to have a felony record expunged, you are taking your life back and opening up new possibilities.
It's important to learn as much as you can about the expungement process and seek the assistance of an attorney who understands the laws of your state. 
While the process involves some work and perseverance, it is definitely worth the effort.
Read and reread this information to better prepare yourself as you go ahead with filing an expungement petition in court. If it's possible to apply via the attorney general's office in your state, it might save you the cost of filing fees if that option is allowed in your state.
We are always here with free information and assistance on jobs, housing, and reentry programs for felons. We also offer a legal hub that makes it much simpler to navigate the legal process for you.
Remember to check back with us as you continue your journey towards a new and better life!