Kroger is among the common retail stores you can find in the United States of America.
You can find at least one outlet in 35 states.
As such, it is a usual job destination for those who are looking for entry-level employment.
If you're interested in getting hired, you probably wonder about the Kroger drug test procedure.
To help you better understand the company and its policies, let's learn about its background and other related information.
What Is Kroger?
One of the household names in the USA for retails is Kroger.
Its strategic operations and positioning have made the company a retail industry leader.
With over a century's experience of operations, Kroger has cemented itself as one of the enduring American businesses of the modern world.
Since 1883, when Bernard Kroger first conceived of this establishment, its development has defied economic pressures.
Kroger's longevity may be attributed to its purpose and vision statements, which have remained focused and strong throughout the years.
With his $372 worth of life savings, Kroger built a grocery store in downtown Cincinnati.
After 25 years since the opening of his first store, he had at least over 100 stores that carried his name.
Kroger made strides in evolving the grocery environment to what it is today by knowing what the shoppers wanted.
To ensure top-notch quality and less outsourcing, he baked all of his bread.
With lower operation costs, the bread he sold was affordable, which made many customers satisfied.
Kroger is recognized as the first grocery store to have a butcher shop inside.
The inclusion of meat products delivered more convenience for the customers.
Today, Kroger presents a store format that caters to the need of almost every type of shopper.
Multi-department shops, supermarkets, pharmacies, discount shops, and fine jewelry sections are among the formats generally offered by our business units.
Jobs at Kroger
Kroger is one of the largest grocery companies in the USA, with over 2,700 stores.
Given this number, there are many job opportunities for those looking for entry-level positions.
Cashiers, courtesy clerks, sales assistants, and department associates are examples of entry-level positions for Kroger.
Employees have the option of doing full-time or part-time.
Since the store is essentially open 24/7, including holidays, workers may need to prepare for unfavorable shifts.
Krogers uses the phrase "come for a job, stay for a career" to promote long tenure for potential applicants.
The company states that its current CEO, Rodney Mcmullen, got his start as a stock clerk and worked his way up.
Recently, despite the economic repercussions caused by the Covid-19 pandemic, Krogers targeted 10,000 new employees.
The company also spent around $1.5 billion to cover extra pay and additional compensations for their existing workers.
Considering these facts about Kroger, it wouldn't be a hard sell for potential applicants to drop their resumes and hope for meaningful employment.
Kroger for Felons
Due to the visibility of Kroger, it wouldn't be odd for former inmates to seek employment there.
However, similar to other registered establishments, the stores have specific requirements before starting your first day.
Typically, Kroger has a record of considering felons as staff members, but those with serious offenses will have a more difficult time getting hired.
A Kroger hiring manager, in most cases, will review each application and conviction on an individual basis.
With their willingness to hire people who did time, don't attempt to hide your criminal record if you have one.
Instead, disclose it during the interview, or present the pertinent paperwork to the hiring manager.
By being upfront about your history, they might appreciate your honesty and ultimately lead to contract signing.
Kroger Drug Test
In addition to a background check, a drug test is usually a part of Kroger's application process.
After you have signed a contract, you must complete these two processes before you get completely hired.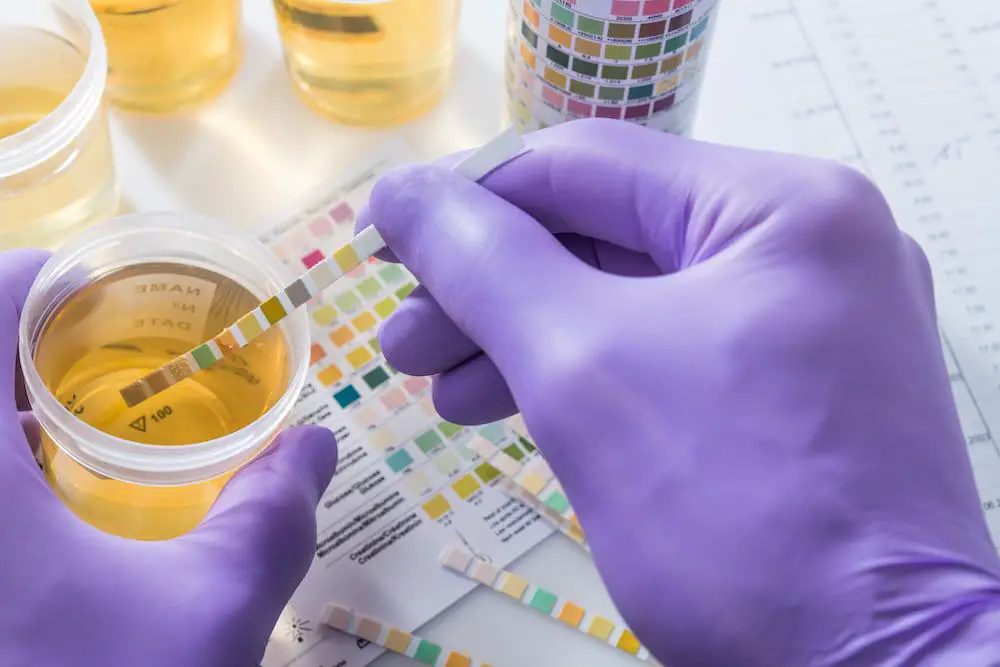 A drug test is not required for all Kroger shops; some have even discontinued drug tests completely, most probably to cut company expenses.
Regardless of whether the store doesn't require a drug test as part of its hiring process, applicants should nonetheless be prepared to take one if they get invited.
Depending on the management, they may conduct random tests.
If they have a recent history of employees using narcotics, the store may likely demand mandatory or random drug tests.
Kroger Drug Test Method
According to various accounts, Kroger's preferred method of drug testing is the mouth swab.
As the name implies, this procedure detects the presence of drugs or alcohol in one's system via a saliva sample.
Performing these tests is rapid and painless, and they are cost-efficient compared to other methods.
Also, a mouth swab will not be as simple to cheat as a urine test because it doesn't require you to go to a bathroom to produce a sample.
The test also takes very little preparation for the testee as you only need to be free of any food or liquid intake for at least 10 minutes.
The examiner only requires one to three minutes from you to obtain a sufficient sample of your saliva.
That's why this procedure is extremely convenient if the management decides to perform the test in your office.
The result of the on-site analysis is available within minutes.
However, if your sample is sent to a laboratory, it is usually processed in roughly 24 hours.
Accuracy of Kroger Drug Test
Provided that Kroger utilizes oral or mouth drug tests, the accuracy is about 97 percent.
This percentage is reliable and almost leaves no room for errors.
The limitation of the Kroger drug test method is it would only be accurate in identifying current usage.
Meaning, if you do not have any intake of drugs in a couple of days, most likely, the test wouldn't reveal any presence of a substance in your body.
Final Thoughts
Kroger is an excellent destination if you are looking for entry-level jobs.
Regardless of your background, make all the effort to be prepared physically and mentally.
Substance abuse will only take a toll on your well-being, career, and life choices.
Be clean, whether you are applying for a job at Krogers or not.